Event Details
Date
January 15 - February 5, 2020
Time
10am-12pm on January 15, 22, 29 & February 5
Location
Cortland Career Work Center
99 Main St
Cortland, NY 13045
Cost
$95.00 per farm



Host
South Central New York Dairy and Field Crops
Mary Kate Wheeler
email Mary Kate Wheeler
Pre-Registration Deadline: January 14, 2020

EVENT HAS PASSED
QuickBooks for Farmers and Growers
January 15 - February 5, 2020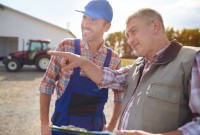 This is a beginner level class is for farm bookkeepers who want to improve financial record keeping, figure out whether QuickBooks software is a good fit for their business, or enhance their QuickBooks skills. In this 4-part series, you will learn how to set up and use QuickBooks from the ground up. The course covers:
Basic accounting concepts and reports
How to set up a Chart of Accounts to fit your farm operation
Invoicing and Cash Receipts
Recording and Paying Purchases and Expenses
Reconciling Accounts
Production and Analysis of Financial Statements
The class takes place in a small group setting, allowing plenty of time for interaction and questions. We provide hands-on learning so students can practice the skills that we demonstrate. Our instructors pay special attention to issues facing farm businesses, and use examples that are relevant to agriculture.
This class covers the desktop version of QuickBooks. We provide laptops with QuickBooks 2018 if you do not have one. (Sorry, no Apple or Cloud versions allowed.)
After completing the course, students may schedule a free individual follow-up session with a CCE educator or a volunteer mentor through the SCORE business network.
Don't miss this workshop! Space is limited, so register now.