Event Details
Date
February 19, 2020
Time
5:30pm - 8:00pm
Location
Farm Credit East
1 Technology Place
Homer, NY 13077
Cost
$15.00 per person, includes supper
(additional attendee $15.00 ea.)

At the Door
$15.00 per person, includes supper

Host
South Central New York Dairy and Field Crops
Pre-Registration Deadline: February 19, 2020

EVENT HAS PASSED
Automated Milking System (AMS) Management Discussion Group - Homer, NY
February 19, 2020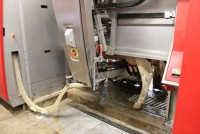 The focus of the AMS Discussion Group is to allow AMS owners and managers to share current AMS management strategies with each other in order to improve AMS efficiencies, profitability, and sustainability. There will be a topic of discussion and short presentation for each meeting, but the main portion of each discussion group will be the interaction between AMS owners and managers.
This group meeting will focus on daily AMS task efficiency, facilitated by Margaret Quaassdorff of the NWNY Dairy, Livestock & Field Crops Team with Cornell Cooperative Extension.
The meeting will start with supper at 5:30, and discussion from 6-8pm. Fee is $15 per person and includes meal and materials.
Questions? Call Betsy Hicks at 607.391.2673 or bjh246@cornell.edu.
AMS Discussion Group Flyer (PDF; 1338KB)