Understanding and Mitigating Lameness
---
Event Details
Date
March 22, 2022
Time
10:00am-12:30pm
Location
Virtual Workshop Via Zoom

Host
South Central New York Dairy & Field Crops
Betsy Hicks
607-391-2672
email Betsy Hicks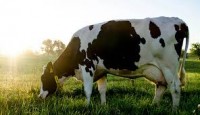 This virtual workshop is for anyone who works with dairy cattle. This program will cover how to identify lameness, what factors cause lameness, and practical strategies to avoid and mitigate lameness on your dairy.
Workshop Topics
10am-10:15am Economic Impact of Lameness: A brief overview of the impact lameness has on farm profitability due to milk loss, delayed conception, and costs related to extra handling, treatment, and early culling.
10:15am-11:00am Risk Factors and Best Management Practice: Improving lameness in your dairy herd needs a multi-faceted approach. Presenters will discuss herd management and facility factors that are known risk factors for lameness and strategies to reduce lameness on your farm.
11:00am-11:15am Foot Baths: A brief discussion on the best practices for implementing and managing footbaths.
11:15am-noon Effective Lameness Detection: Early detection of lameness combined with a routine foot-trimming program is critical to minimize the impact on the farm.
Noon-12:30pm Questions for presenters.
We can offer this program at no cost to participants because of the generous support of our sponsors.
Register Understanding and Mitigating Lameness
After registering, you will receive a confirmation email containing information about joining the webinar and the Zoom link.
Presenters:
Dr. Jan Shearer, DVM, Professor, Iowa State University College of Veterinary Medicine.
Dr. Jan Shearer is the Dairy Extension Veterinarian at Iowa State University College of Veterinary Medicine. Dr. Shearer has several decades of experience in training producers on the best approaches to manage lameness in cattle. He established the Master Hoof Care Program, a training program designed to teach on-farm employees how to properly trim and treat foot problems. Since 1996, this program has acquired international prominence for its impact on foot health in dairy operations.
Lindsay Ferlito, MS, NCRAT Regional Dairy Specialist, Cornell Cooperative Extension.
Lindsay Ferlito has a passion for cow comfort and the dairy industry. For the last 10 years Lindsay has been conducting applied research focusing on cow comfort and facilities, delivering educational programs on cow comfort and lameness, and providing producers with herd specific feedback relative to regional benchmarks. By visiting hundreds of dairies across the country, she has gained a unique perspective and understanding of cow comfort and the dairy industry both in New York and across the United States.
Betsy Hicks, MS, SCNY Regional Dairy Specialist, Cornell Cooperative Extension.
Betsy Hicks considers lameness avoidance to be essential to a profitable dairy farm. She approaches cow comfort and lameness from her dairy cattle nutritionist background. In her role as a Dairy Specialist, she has conducted applied research, developed and implemented educational programs and collaborated on efforts to decrease and effectively prevent lameness in dairy cows.
Margaret Quaassdorff, MS, NWNY Regional Dairy Specialist, Cornell Cooperative Extension.
Margaret Quaassdorff brings her experience as a herd manager and nutritionist to the subject of reducing lameness in dairy cows. Margaret takes a practical approach to implementing lameness avoidance practices on dairy farms. She has collaborated on lameness mitigating educational programs and applied research.


Upcoming Events
Pasture Walk: Stockpiling Forages for Winter Sheep Grazing
October 11, 2022
Candor, NY
Are your animals still grazing in January? Allen Shetler's sheep are! Join us for a farm tour to learn about techniques for stockpiling pasture and winter grazing small ruminants. See how Allen efficiently delivers supplemental feed to grazing animals using a Greg Judy-style bale unroller. Experience a sheep fencing demonstration and learn how to manage electric fencing for winter grazing. Network with others in the grazing community and discover grant opportunities to expand or improve your grazing operation. Representatives from the Tioga County Soil and Water Conservation District will be present to share information about grazing planning services and funding to support the development of grazing systems.
Free Mental Health First Aid Training for the Cortland County Agriculture Community
October 19, 2022
East Homer, NY
Join NY FarmNet & CCE Cortland for a free Mental Health First Aid Training for farmers, agribusiness workers, and anyone who interacts with the agricultural community on Wednesday, October 19th from 8:00 am to 5:00 pm (lunch is included).
Creating an Effective Land Lease with Attorneys from the Food and Farm Business Law Clinic at Pace University
October 24, 2022
Binghamton, NY
Join CCE Broome and attorneys from the Food and Farm Business Law Clinic at the Elisabeth Haub School of Law at Pace University for a free in-person event where we explore the components of a functional land lease which can meet the needs of both the landowner and farmer.

Announcements
New York State Farm Directory launching in June 2022
From our friends at Cornell CALS
As part of Cornell Cooperative Extension's role in strengthening New York State agriculture, we are helping to spread word of the New York State Department of Agriculture and Markets' plans to launch a statewide online Farm Directory. The Farm Directory, which launches in mid-June, will connect consumers to producers of farm products and promote New York farms.
The Farm Directory will appear on the New York State Department of Agriculture and Markets' website at
agriculture.ny.gov/farming/farm-directory
. It will show information for each listed farm, which can include the farm name, farm type, point of contact, addresses, telephone number, email address, website, social media, and a listing of all available products produced by the farm. Other categories of interest to the public, like the farm's inclusion in the New York State Grown & Certified Program and designations of organic, halal or kosher certified may also be noted. Website visitors will be able to sort or search the directory by any field.
Since not every farm offers products to the public at the farm site, each farm can indicate whether it is open to the public, or if there is another means that their farm product can be accessed. This might include listing a distributor, a brand name that your product is eventually marketed under, or a specific consumer-facing website where the public can determine where to purchase your product in a retail location. The information available on the directory for each farm can be tailored to meet the individual needs of each business and farmers will be able to update their information as desired.
The creation of the Farm Directory derives from Section 16(52) of the New York State Agriculture and Markets Law, requiring the Department to create a directory of every farm in New York State. Farms will be receiving a package in the mail shortly outlining the Farm Directory purpose, a survey to collect information on the farm to be included in the Directory, and a return envelope.
If you choose not to have your farm participate in the Directory, you are required by law to notify the New York State Department of Agriculture and Markets of this decision by opting out. Farms may opt out by returning the provided survey or indicating it through the online survey linked at the website above.
Farms that initially opt out can later contact the New York State Department of Agriculture and Markets if they wish to be included at any point. Also, farms can also contact the New York State Department of Agriculture and Markets if they wish to opt out after initially choosing to participate in the Directory.
For questions or additional information on the Farm Directory, please contact the New York State Department of Agriculture and Markets at (518) 485-1050 or FarmDirectory@agriculture.ny.gov.
NYS Climate Action Council Draft Scoping Plan
The Climate Leadership and Community Protection Act (Climate Act) was signed into law in 2019 as one of the most ambitious climate laws in the world. The law created the Climate Action Council (the Council), which is tasked with developing a draft scoping plan that serves as an initial framework for how the State will reduce greenhouse gas emissions and achieve net-zero emissions, increase renewable energy usage, and ensure climate justice. On December 20, the Council voted to release the draft scoping plan for public comment. January 1, 2022 marks the beginning of a 120-day public comment period to receive feedback from the public as the Council works to develop and release a final scoping plan by the end of 2022. Read the Draft Scoping Plan [PDF] including the e
ntire document with appendices.
https://climate.ny.gov/Our-Climate-Act/Draft-Scoping-Plan
From Our Team to Yours: COVID-19 Resources for Dairy Farmers
The South Central NY Dairy and Field Crops Team has compiled a
list of articles
that we think may be useful to dairy producers and their service providers as we all navigate the COVID-19 situation. Please stay safe and reach out to our team if you have questions or need help finding information. We are here to help with tools and resources to support all of the normal day-to-day dairy and field crop management considerations, in addition to emerging topics related to COVID-19.
Regional Team Operations During COVID-19
Click here for an operations update.
Dairy Acceleration Program Funds Available
Funds available for the
organization of financial records/benchmarking up to $1,000
continued business planning (for farms awarded in a previous year) up to $2,500
business planning up to $5,000
Guidelines remain the same DAP covers 80% of the cost up to the value of the award and the farm is responsible for 20%. Visit
https://prodairy.cals.cornell.edu/dairy-acceleration/
HEMP GROWER'S EXCHANGE BOARD
CCE Hemp Exchange Board On-Line
Dear Hemp Growers & Processors: Our exchange board has its first postings; plenty of interest in selling and purchasing. You can check it out at
http://www.nyhempexchange.org/
*The NY Hemp Exchange Board is posted for your information and research purposes. Cornell Cooperative Extension does not endorse or recommend any product, service, individual, business or other entity. All "Hemp Exchanges" are posted at the discretion of CCE. "Hemp Exchanges" requests may be denied or removed at any time for any reason Maire Ullrich, MBA Agriculture Program Leader Eastern New York Horticulture Team - Vegetables Cornell University Cooperative Extension Orange County
2018 Drug Residue Prevention Manual
For more than 30 years, the U.S. dairy industry has focused educational efforts on the judicious use of antibiotics through the annual publication of a Best Practices Manual. The 2018 edition of the National Dairy FARM Program: Farmers Assuring Responsible Management? Milk and Dairy Beef Drug Residue Prevention Manual is the primary educational tool for dairy farm managers throughout the country on the judicious and responsible use of antibiotics, including avoidance of drug residues in milk and meat.
The manual is a quick resource to review those antibiotics approved for dairy animals and can also be used as an educational tool and resource for farm managers as they develop on-farm best management practices necessary to avoid milk and meat residues. Visit the Manual and Form Library to download copies of this important tool!
Follow us on Facebook
The team updates our facebook page frequently - follow us to be updated on our events, see some fun videos and get local area updates!
facebook.com/SCNYDairyandFieldCropsTeam
Dairy Grazing Apprenticeship
Western New York Dairy Farmers Kim Shaklee and Janice Brown make the news with their successful Dairy Grazing Apprenticeship match. Kim and Janice are Master Graizers, and they are working hard with their Apprentice, Travis Belmore and preparing Lauren La Mar for an official Apprenticeship.
http://www.americanagriculturist.com/dairy/guiding-next-gen-dairy-graziers-win-win
ProDairy Forage Management
Are you prepared to change your routine this spring?
By: Joe Lawrence, Cornell CALS PRO-DAIRY and Ron Kuck, Cornell Cooperative Extension North Country Regional Ag Team


While spring tasks vary by farm, there are many "rites of spring," and they are often completed in a fairly rigid sequence. Depending on the farm, these often include fixing fence, spreading manure, planting new seedings, planting corn and harvesting first cutting, and are often performed in this order.

We are optimistic that the upcoming turn in weather will allow these task to be accomplished in a timely manner, but at this point it is time to ask yourself: Are you willing to change your spring routine?

In addition to adverse weather it is no secret that everyone is facing extremely tight economic times, and dealing with forage inventories of poor digestibility forages from 2017. This combination of factors makes it more critical than ever to be ready to tackle the task that will have the most impact on your business at the proper time.

Recent reference articles on dealing with tough times:
• Key Opportunities to Optimize 2018 Crop Production Efficiency
• Resources for Dealing with Spring Weather Delays
First Cutting
The number one focus should be on timely harvest of first cutting.
• Park the corn planter when a field of first cutting is ready for harvest.
o Monitoring 1st cut harvest timing
• Approach harvest by the acre, not by the field. Be ready to skip over a field that has passed its optimum harvest stage.
o Dynamic Harvest Schedules
• Strategically plan feed storage to best utilize forage inventories for the right group of animals.
o Strategic Forage Storage Planning
o When More is Better
Corn Planting
The window for planting for silage is generally wider than for grain, which is why first cutting can and should take priority over corn planting. However, in the event of extreme delays in planting corn, performance will diminish with late plantings. If corn planting progresses into late May or early June, begin to consider alternative options for those acres. Previous research from Cornell and Penn State suggest a 0.5 to 1 ton/acre per week decline in silage yield for planting after mid to late May.

Multi-Tasking
First and foremost during a time of year that can be very busy and stressful, taking every precaution to keep your team safe is critical.

The idea of fitting all of this work into a condensed time period, and still getting key tasks completed before critical deadlines can seem impossible, but year after year many find unique ways to get it all done. Consider working with neighbors, custom operators or renting equipment to accomplish these key tasks on time.

If you currently utilize custom operators, now is a good time to set up a time to meet with them and make sure you are on the same page to get tasks accomplished in the time-frame needed. Make sure that your expectations and goals are clearly defined. They will also be under stress to fit their work into a condensed period and meet their customers' expectations, so defining expectations and pre-planning how to most efficiently get the work accomplished when the custom operator arrives can go a long way to increase the chances for success.


NYSERDA Agriculture Energy Audit Program
NYSERDA offers energy audits to help eligible farms and on-farm producers identify ways to save energy and money on utility bills. Reports include recommendations for energy efficiency measures.
Eligibility
Eligible farms include but are not limited to dairies, orchards, greenhouses, vegetables, vineyards, grain dryers, and poultry/egg. The farms must also be customers of New York State investor-owned utilities and contribute to the System Benefits Charge (SBC). Please check your farmís current utility bills to see if your farm pays the SBC.
Energy Audit Options
You can request the level of energy audit that best fits your farmís needs. NYSERDA will assign a Flexible Technical Assistance Program Consultant to visit your farm and perform an energy audit at no cost to you.
For more information and the NYSERDA Agriculture Energy Audit Program Application click here