Event Details
Date
December 13, 2019
Time
9:30am - 3:00pm
Location
Flemingville United Methodist Church
540 W Creek Rd
Owego, NY
Cost
This event is free.
Host
South Central New York Dairy and Field Crops
Pre-Registration Deadline: December 14, 2019

EVENT HAS PASSED
Cow Comfort Program - Tiestall
December 13, 2019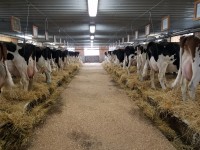 One day cow comfort program for tiestall barns, featuring Dr Dan McFarland from Penn State as guest speaker.
Economics
Stall design, bedding management
Stocking density
Ventilation & Heat abatement
Assessment w/ host farm walkthrough
Host farm: Todd & Josie Spencer, 3657 West Creek Rd, Newark Valley, NY
This program is open to all dairy farmers, employees or agriservice that want to learn more about improving cow comfort in tiestall facilities. Participants will leave the class with a template for assessing cow comfort in other facilities.

The program is FREE and includes lunch, thanks to generous sponsorship by Cargill.
Program is also generously supported by NY Farm Viability Institute.
Cow Comfort Flyer (PDF; 1159KB)