PEDv: What does it mean for NY's Swine Producers?
Nancy Glazier, Small Farms & Livestock
Northwest New York Dairy, Livestock & Field Crops
February 17, 2014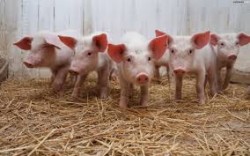 Porcine Epidemic Diarrhea virus (PEDv) has arrived in New York with a vengeance. I received first notice of an infected farrowing operation in early February. Soon after, I discovered the outbreak was much more widespread. The virus was somehow introduced from Asia in multiple locations, was officially identified in the United States in May, 2013. It has killed an estimated 4 million pigs since its introduction.
Clinical signs are severe diarrhea in pigs of all ages and vomiting. High mortality is associated with the virus, nearly 100% in pre-weaned pigs. Transmission occurs orally through contact with contaminated feces. Incubation period is 12-24 hours with shedding (amount of time animals can infect others) up to 3-4 weeks. There is no vaccine available at this time.
This is a scenario posted to the
www.aasv.org
website:
The oldest piglets in farrowing started scouring on a Saturday. The next oldest rooms were scouring on Sunday. By Monday, 100% of piglets in far-rowing were scouring and sows in lactation were going off feed. On Tuesday, piglet mortality in-creased to 10x normal daily losses which continued for approximately one week. Piglets were scouring a yellow, watery scour. They tried to nurse but sows were drying up. Piglets were lined up at the water nipples. Piglets started scouring at 12-24 hours after birth. Piglets would survive until approximately day 3 or 4 unless they were humanely euthanized before then.

What can be done to decrease the chance of your herd becoming infected? The first step - a big one - review and tighten your biosecurity protocols, small and large herds alike. Pay attention to anything or anyone coming out of state or from another farm. Be especially diligent about employees, family and visitors but also consider supplies, feed ingredients, food items, etc. that might contaminate the herd. There is concern that some creep feed may have been contaminated.
Additional biosecurity recommendations should include:
limiting traffic (people and equipment) onto the farm,
thoroughly cleaning and disinfecting anything coming onto the farm. The virus is susceptible to a number of common disinfectants including: Virkon S, Clorox, 1 Stroke Environ, and Tek-Trol, some potent disinfectants. Contact time it critical for any disinfectant; you need to apply it as a soap and leave it sit before rinsing or better yet apply it as an after-washing post-rinse. This goes for boots, truck tires, shovels, buckets, etc.
enforcing downtime requirements and maintaining a log of visitors,
taking care when disposing of dead stock particularly if using a communal disposal method,
isolating newly arriving animals and continuing vet to vet discussions about animal health at the herd of origin, and
showering into the facility where practical and changing into clean boots and coveralls (veterinarians should also be careful not to track the virus between herds on their person, equipment or vehicles)
To help with the education regarding PEDv, the New York Pork Producers will be hosting their annual meeting March 22 at the Holiday Inn in Waterloo. Registration begins at 9 am. To register, contact Krista Jaskier at 716.697.3031 or
info@newyorkpork.org
.
NY Ag & Markets has a fact sheet posted here:
http://www.agriculture.ny.gov/AI/PEDV_Outreach.pdf
Resources for this article were found at websites below. For more information, visit:
http://www.aasv.org/aasv%20website/Resources/Diseases/PorcineEpidemicDiarrhea.php
, the website for the American Association of Swine Veterinarians. Information is continually updated when it becomes available.
http://www.pork.org/Research/2641/ResearchLatestNews.aspx#.Uv1YLfldUrV
. The Pork Checkoff site has lots of information on current research and available resources.
Upcoming Events
The Landowner & Utility-scale Solar Decision
October 26, 2021
Cortland, NY
On Tuesday, October 26th, at the NYS Grange Building in Cortland NY from 9:30 am - 3:00 pm, Cornell Cooperative Extension of Cortland County, and co-sponsored by the Cortland County Soil & Water Conservation District, will be hosting an event that will provide farmers and other landowners with information that addresses the topics of utility-scale solar development, leasing, and regulations. From 9:30 - 1:30, with a break for lunch, attendees will join in a webinar hosted by the statewide CCE team and covers the topics outlined above. From 1:30 - 3:00 attendees will be given an opportunity to engage in a Q&A with local panelists. The panelists will include 2 farmers who are currently working with solar developers, 2 municipal representatives who have been regularly engaged in this conversation, and the Energy & Climate Change Team Leader at CCE Tompkins.
Registration is required for the event and a registration fee of $10 will go to help cover the costs of lunch, speaker, and location fees.

Income Tax Planning for Farms that File a Schedule F
October 13, 2021
October 20, 2021
October 27, 2021
: Income Tax Planning for Farms that File a Schedule F
A three-part series for farms that are already filing a Schedule F covering tax planning and goals, handling farm profits/losses, and strategies to improve your tax position while also working positively with your accountant/tax preparer.

Healthy, Hardy Heifers! Virtual Series Fall 2021
October 1, 2021
October 8, 2021
October 15, 2021
October 22, 2021
October 29, 2021
November 5, 2021
November 12, 2021
November 19, 2021
: Healthy, Hardy Heifers!
CCE Regional Ag Teams are excited to offer this NEW heifer series! Join us VIRTUALLY for an 8-week series on heifer management topics from post-weaning to calving! This series will be offered virtually via Zoom every Friday starting October 1st, 2021, at 12:00 pm EST. Sessions will be ~30 - 45 minutes in length, with a question period at the end.
Announcements
From Our Team to Yours: COVID-19 Resources for Dairy Farmers
The South Central NY Dairy and Field Crops Team has compiled a
list of articles
that we think may be useful to dairy producers and their service providers as we all navigate the COVID-19 situation. Please stay safe and reach out to our team if you have questions or need help finding information. We are here to help with tools and resources to support all of the normal day-to-day dairy and field crop management considerations, in addition to emerging topics related to COVID-19.
Regional Team Operations During COVID-19
Click here for an operations update.
Dairy Acceleration Program Funds Available
Funds available for the
organization of financial records/benchmarking up to $1,000
continued business planning (for farms awarded in a previous year) up to $2,500
business planning up to $5,000
Guidelines remain the same DAP covers 80% of the cost up to the value of the award and the farm is responsible for 20%. Visit
https://prodairy.cals.cornell.edu/dairy-acceleration/
HEMP GROWER'S EXCHANGE BOARD
CCE Hemp Exchange Board On-Line
Dear Hemp Growers & Processors: Our exchange board has its first postings; plenty of interest in selling and purchasing. You can check it out at
http://www.nyhempexchange.org/
*The NY Hemp Exchange Board is posted for your information and research purposes. Cornell Cooperative Extension does not endorse or recommend any product, service, individual, business or other entity. All "Hemp Exchanges" are posted at the discretion of CCE. "Hemp Exchanges" requests may be denied or removed at any time for any reason Maire Ullrich, MBA Agriculture Program Leader Eastern New York Horticulture Team - Vegetables Cornell University Cooperative Extension Orange County
2018 Drug Residue Prevention Manual
For more than 30 years, the U.S. dairy industry has focused educational efforts on the judicious use of antibiotics through the annual publication of a Best Practices Manual. The 2018 edition of the National Dairy FARM Program: Farmers Assuring Responsible Management? Milk and Dairy Beef Drug Residue Prevention Manual is the primary educational tool for dairy farm managers throughout the country on the judicious and responsible use of antibiotics, including avoidance of drug residues in milk and meat.
The manual is a quick resource to review those antibiotics approved for dairy animals and can also be used as an educational tool and resource for farm managers as they develop on-farm best management practices necessary to avoid milk and meat residues. Visit the Manual and Form Library to download copies of this important tool!
Follow us on Facebook
The team updates our facebook page frequently - follow us to be updated on our events, see some fun videos and get local area updates!
facebook.com/SCNYDairyandFieldCropsTeam
Dairy Grazing Apprenticeship
Western New York Dairy Farmers Kim Shaklee and Janice Brown make the news with their successful Dairy Grazing Apprenticeship match. Kim and Janice are Master Graizers, and they are working hard with their Apprentice, Travis Belmore and preparing Lauren La Mar for an official Apprenticeship.
http://www.americanagriculturist.com/dairy/guiding-next-gen-dairy-graziers-win-win
ProDairy Forage Management
Are you prepared to change your routine this spring?
By: Joe Lawrence, Cornell CALS PRO-DAIRY and Ron Kuck, Cornell Cooperative Extension North Country Regional Ag Team


While spring tasks vary by farm, there are many "rites of spring," and they are often completed in a fairly rigid sequence. Depending on the farm, these often include fixing fence, spreading manure, planting new seedings, planting corn and harvesting first cutting, and are often performed in this order.

We are optimistic that the upcoming turn in weather will allow these task to be accomplished in a timely manner, but at this point it is time to ask yourself: Are you willing to change your spring routine?

In addition to adverse weather it is no secret that everyone is facing extremely tight economic times, and dealing with forage inventories of poor digestibility forages from 2017. This combination of factors makes it more critical than ever to be ready to tackle the task that will have the most impact on your business at the proper time.

Recent reference articles on dealing with tough times:
• Key Opportunities to Optimize 2018 Crop Production Efficiency
• Resources for Dealing with Spring Weather Delays
First Cutting
The number one focus should be on timely harvest of first cutting.
• Park the corn planter when a field of first cutting is ready for harvest.
o Monitoring 1st cut harvest timing
• Approach harvest by the acre, not by the field. Be ready to skip over a field that has passed its optimum harvest stage.
o Dynamic Harvest Schedules
• Strategically plan feed storage to best utilize forage inventories for the right group of animals.
o Strategic Forage Storage Planning
o When More is Better
Corn Planting
The window for planting for silage is generally wider than for grain, which is why first cutting can and should take priority over corn planting. However, in the event of extreme delays in planting corn, performance will diminish with late plantings. If corn planting progresses into late May or early June, begin to consider alternative options for those acres. Previous research from Cornell and Penn State suggest a 0.5 to 1 ton/acre per week decline in silage yield for planting after mid to late May.

Multi-Tasking
First and foremost during a time of year that can be very busy and stressful, taking every precaution to keep your team safe is critical.

The idea of fitting all of this work into a condensed time period, and still getting key tasks completed before critical deadlines can seem impossible, but year after year many find unique ways to get it all done. Consider working with neighbors, custom operators or renting equipment to accomplish these key tasks on time.

If you currently utilize custom operators, now is a good time to set up a time to meet with them and make sure you are on the same page to get tasks accomplished in the time-frame needed. Make sure that your expectations and goals are clearly defined. They will also be under stress to fit their work into a condensed period and meet their customers' expectations, so defining expectations and pre-planning how to most efficiently get the work accomplished when the custom operator arrives can go a long way to increase the chances for success.


NYSERDA Agriculture Energy Audit Program
NYSERDA offers energy audits to help eligible farms and on-farm producers identify ways to save energy and money on utility bills. Reports include recommendations for energy efficiency measures.
Eligibility
Eligible farms include but are not limited to dairies, orchards, greenhouses, vegetables, vineyards, grain dryers, and poultry/egg. The farms must also be customers of New York State investor-owned utilities and contribute to the System Benefits Charge (SBC). Please check your farmís current utility bills to see if your farm pays the SBC.
Energy Audit Options
You can request the level of energy audit that best fits your farmís needs. NYSERDA will assign a Flexible Technical Assistance Program Consultant to visit your farm and perform an energy audit at no cost to you.
For more information and the NYSERDA Agriculture Energy Audit Program Application click here