Event Details
Date
November 27, 2018
Time
1:00pm - 3:00pm
Location
CCE Tioga County - Hubbard Auditorium
56 Main Street
Owego, NY 13827
Cost
This event is free.
Host
South Central New York Dairy & Field Crops
Mary Kate Wheeler
(607) 687-4020
email Mary Kate Wheeler
Pre-Registration Deadline: November 27, 2018

EVENT HAS PASSED
Basic Legal Agreements for Farm Business Management
November 27, 2018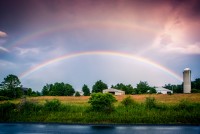 Legal agreements can help a farm businesses plan ahead, minimize risk, and respond to adverse events. Farmers have access to a wide range of legal tools to address specific concerns. These include lease agreements, buy-sell agreements, promissory notes, operating agreements, wills, and even prenuptial agreements.
Farmers interested in learning how legal agreements can strengthen their businesses are invited to attend this free workshop on Basic Legal Agreements for Farm Business Management. We are excited to host speaker Anna Richards from the Cornell University PRO-DAIRY program. Attendees will learn about different legal agreements that are commonly used in farm business management, with an emphasis on Operating Agreements for LLCs.
This is a free event, and pre-registration is appreciated. For questions or to register please contact Mary Kate Wheeler by email at mkw87@cornell.edu or by phone at (607) 687-4020.

Event Flyer (PDF; 170KB)
Upcoming Events
No upcoming events at this time.
Announcements
2019 Hemp Events
Upcoming Hemp Events:
Eastern NY Hemp Growers Conference - Albany - June 3-4
Aurora Farm Field Day - Mid-July
Open House - Millsboro Research Farm - Mid-July
Hemp Workshop - Empire Farm Days - Aug 6-8
Cornell Hemp Field Day - Geneva - Aug 13
Long Island HREC Plant Science Day - Early Sept
Cornell CBD Hemp Field Day - Ithaca - Early Sept
For more information, visit:
HEMP GROWER'S EXCHANGE BOARD
Complete the survey and submit. We will then download all of the entries weekly and post online. *The NY Hemp Exchange Board is posted for your information and research purposes. Cornell Cooperative Extension does not endorse or recommend any product, service, individual, business or other entity. All "Hemp Exchanges" are posted at the discretion of CCE. "Hemp Exchanges" requests may be denied or removed at any time for any reason Maire Ullrich, MBA Agriculture Program Leader Eastern New York Horticulture Team - Vegetables Cornell University Cooperative Extension Orange County
Public Hearing on Farmworkers Fair Labor Practices Act
ALBANY. Senators Jen Metzger (SD-42) and Jessica Ramos (SD-13) will hold joint hearings in the Catskills/Hudson Valley, Long Island, and in Morrisville to hear public testimony on the Farmworkers Fair Labor Practices Act S2837 - proposed state legislation that would have significant impacts on farm workers and farmers in New York. Metzger is Chair of the Senate Agriculture Committee and Ramos, who is sponsoring the legislation, is Chair of the Senate Labor Committee.
"I called for joint hearings because as Chair of the Senate Agriculture Committee and the representative for many farmers and farmworkers in Ulster, Orange, Delaware, and Sullivan counties, I recognize that this proposed legislation will greatly impact farming in New York," explains Senator Jen Metzger. "It's very important that we hear from farmers and farm workers as we weigh this legislation and make sure that we are addressing the concerns and needs of all of those who will be affected. We must take into careful consideration the realities of small and family-owned farm operations-the vast majority of farms in New York-and the long-term viability of agriculture in the state."
In contrast to agriculture in other parts of the country, farms in New York tend to be small and family-owned: According to the 2012 USDA Agriculture census, 92 percent of the state's farms are under 500 acres (over half are less than 100 acres), and 98 percent are family-owned.
Some of the main provisions of the Farmworkers Fair Labor Practices Act include:
• Providing collective bargaining rights for farm workers
• Mandating overtime pay to farm workers after eight hours of work per day and 40 hours per week
• Providing unemployment insurance and workers' compensation for farm laborers
• Including farm workers under disability laws
• Continuing to include farm workers under New York minimum wage laws
• New housing regulations
"In New York, there is a Jim Crow-era law still on our books that denies human beings? mostly black and Latino taxpaying New Yorkers? parity with nearly every other worker in this state," said State Senator Jessica Ramos. "Farmworkers in New York State do not have the right to a day off, unemployment benefits, overtime pay, or the right to collectively bargain. That must change once and for all. These hearings across the state will ensure we hear from every stakeholder."
"One of the most important aspects of crafting good law is hearing from all those who will be affected by it," says Senator Rachel May (SD-53), Chair of the Legislative Commission on Rural Resources. "I have been pushing hard to hold hearings across the state on major legislation so that we can hear from as many stakeholders as possible. This hearing on the Farmworkers Fair Labor Practices Act will ensure that the State Senate hears directly from interested parties, including farmers, farmworkers, advocates, and businesses. Our goal is to craft legislation that protects both farmworkers and farms. We all understand that it is paramount our farms remain viable while safeguarding worker protections."
"The success and health of our agricultural sector has a tremendous impact to both the local and statewide economy, particularly in Suffolk County, as the largest agricultural producer in New York State," says Senator Monica Martinez (SD-3). "I look forward to collaborating with my colleagues and all stakeholders to come to a common-sense solution on this matter."
"As the organization representing New York's farming community, we appreciate the leadership of Senator Metzger, who has been working with us since early February to ensure that hearings will take place in key agricultural communities across the state before this bill goes to the Senate floor," says Jeff Williams, Director of Public Policy for the New York Farm Bureau. "It's very important to our members that they have the opportunity to share their experiences and perspective."
Hearings are free and open to the public. The hearing schedule is as follows:
April 25, 2019
11:00 AM - 3:00 PM
SUNY Morrisville - 9 Skyline Dr, Morrisville, NY 13408
Those who would like to attend and/or testify at the Morrisville hearings are asked to register at bumpus@nysenate.gov or by calling 315-478-8745
April 26, 2019
2:30 PM - 5:30 PM
Suffolk County Legislature, William J. Lindsay County Complex, William H. Rogers Building, 725 Veterans Memorial Highway, Smithtown, NY 11787. Please address any questions about the Smithtown hearings to 631-360-3356
May 2, 2019
1:00 PM - 5:00 PM
SUNY Sullivan - 112 College Rd, Loch Sheldrake, NY 12759
Those who would like to attend and/or testify at the Loch Sheldrake hearings are asked to register at metzger@nysenate.gov or by calling 845-344-3311
Jen Metzger represents the 42nd Senate District, which includes all of Sullivan County and parts of Delaware, Orange, and Ulster Counties. Senator Metzger serves as Chair of the Agriculture Committee and sits on the Environmental Conservation, Education, Health, Energy and Telecommunications, Local Government, Women's Issues, Domestic Animal Welfare, and Legislative Commission on Rural Resources Committees. -The Office of Senator Jen Metzger (SD-42)
WEBINAR: CROP INSURANCE FOR CORN AND SOYBEANS
Focus on Risk for Dairy Farmers:
Now available to watch online replay:
Webinar Presentation from Cornell University Crop Insurance and Risk Management and Education Program and Pro Dairy

https://youtu.be/oIfVcI5vDfw
New York's Dairy Farmers deal with risks all the time. Risks such as weather, labor, environmental, etc. Most farmers would agree that their largest risk is milk price. This has certainly been the case for the past four years. The USDA's Farm Service Agency (FSA) has developed tools to help dairy farmers deal with milk price risks with varying success such as the Milk Income Loss Contract program (MILC), Dairy Margin Protection Plan (DMPP), and the improved DMPP of this year. USDA's Risk Management Agency (RMA) has also had tools to help dairy farmers not as popular since there needs to be communication between a crop insurance agent and the farm and there is usually a higher cost associated with these policies but the protection is also higher.
Originally recorded on Thursday January 24th, this webinar features dairy farmer Ron Robbins of North Harbor Dairy in Sackets Harbor NY. And Ed Gallagher, President of DFA Risk Management.
Ron has used many tools to manage milk price risks on his dairy over the years including those from FSA and RMA and also buying contracts on the Chicago Mercantile Exchange. During the webinar he will relay some of these experiences and which tools he uses now for his farm's milk protection.
Ed Gallagher will review RMA's new "Dairy Revenue Protection" policy. This is a new policy developed with the help of the American Farm Bureau. It is closer to the crop insurances offered for field crops and has helped that industry manage risks for a number of years.
Fay Benson, who works with Cornell University Crop Insurance and Risk Management and Education Program will host the webinar and indicate where more information can be found on the Dairy Revenue Protection Policy.
New Paraquat Certified Applicator Training Available
Paraquat Certified Applicator Training to Prevent Poisonings Now Available | US EPA
www.epa.gov
Dairy Acceleration Program Funds Available
Funds available for the
organization of financial records/benchmarking up to $1,000
continued business planning (for farms awarded in a previous year) up to $2,500
business planning up to $5,000
Guidelines remain the same DAP covers 80% of the cost up to the value of the award and the farm is responsible for 20%. Visit
https://prodairy.cals.cornell.edu/dairy-acceleration/
2018 Drug Residue Prevention Manual
For more than 30 years, the U.S. dairy industry has focused educational efforts on the judicious use of antibiotics through the annual publication of a Best Practices Manual. The 2018 edition of the National Dairy FARM Program: Farmers Assuring Responsible Management? Milk and Dairy Beef Drug Residue Prevention Manual is the primary educational tool for dairy farm managers throughout the country on the judicious and responsible use of antibiotics, including avoidance of drug residues in milk and meat.
The manual is a quick resource to review those antibiotics approved for dairy animals and can also be used as an educational tool and resource for farm managers as they develop on-farm best management practices necessary to avoid milk and meat residues. Visit the Manual and Form Library to download copies of this important tool!
ProDairy Forage Management
Are you prepared to change your routine this spring?
By: Joe Lawrence, Cornell CALS PRO-DAIRY and Ron Kuck, Cornell Cooperative Extension North Country Regional Ag Team


While spring tasks vary by farm, there are many "rites of spring," and they are often completed in a fairly rigid sequence. Depending on the farm, these often include fixing fence, spreading manure, planting new seedings, planting corn and harvesting first cutting, and are often performed in this order.

We are optimistic that the upcoming turn in weather will allow these task to be accomplished in a timely manner, but at this point it is time to ask yourself: Are you willing to change your spring routine?

In addition to adverse weather it is no secret that everyone is facing extremely tight economic times, and dealing with forage inventories of poor digestibility forages from 2017. This combination of factors makes it more critical than ever to be ready to tackle the task that will have the most impact on your business at the proper time.

Recent reference articles on dealing with tough times:
• Key Opportunities to Optimize 2018 Crop Production Efficiency
• Resources for Dealing with Spring Weather Delays
First Cutting
The number one focus should be on timely harvest of first cutting.
• Park the corn planter when a field of first cutting is ready for harvest.
o Monitoring 1st cut harvest timing
• Approach harvest by the acre, not by the field. Be ready to skip over a field that has passed its optimum harvest stage.
o Dynamic Harvest Schedules
• Strategically plan feed storage to best utilize forage inventories for the right group of animals.
o Strategic Forage Storage Planning
o When More is Better
Corn Planting
The window for planting for silage is generally wider than for grain, which is why first cutting can and should take priority over corn planting. However, in the event of extreme delays in planting corn, performance will diminish with late plantings. If corn planting progresses into late May or early June, begin to consider alternative options for those acres. Previous research from Cornell and Penn State suggest a 0.5 to 1 ton/acre per week decline in silage yield for planting after mid to late May.

Multi-Tasking
First and foremost during a time of year that can be very busy and stressful, taking every precaution to keep your team safe is critical.

The idea of fitting all of this work into a condensed time period, and still getting key tasks completed before critical deadlines can seem impossible, but year after year many find unique ways to get it all done. Consider working with neighbors, custom operators or renting equipment to accomplish these key tasks on time.

If you currently utilize custom operators, now is a good time to set up a time to meet with them and make sure you are on the same page to get tasks accomplished in the time-frame needed. Make sure that your expectations and goals are clearly defined. They will also be under stress to fit their work into a condensed period and meet their customers' expectations, so defining expectations and pre-planning how to most efficiently get the work accomplished when the custom operator arrives can go a long way to increase the chances for success.


Dairy Grazing Apprenticeship
Western New York Dairy Farmers Kim Shaklee and Janice Brown make the news with their successful Dairy Grazing Apprenticeship match. Kim and Janice are Master Graizers, and they are working hard with their Apprentice, Travis Belmore and preparing Lauren La Mar for an official Apprenticeship.
http://www.americanagriculturist.com/dairy/guiding-next-gen-dairy-graziers-win-win
Grazing Heifers - An Opportunity for Large Dairy Farms
Grazing Heifers - An Opportunity for Large Dairy Farms
CONTENTS: An Overview of economics and 10 Fact Sheets covering the resources required to operate a
farm owned heifer grazing system or contracting with a Custom Grazer.
1. Grazing Management
2. Nutrition
3. Animal Control and Movement
4. Infrastructure: Fencing
5. Infrastructure: Water
6. Immunity and Vaccination
7. Fly Control
8. Avoiding Pasture Pitfalls
9. Grazing Checklist
10. Custom Grazing Contract
WRITTEN BY: FAY BENSON, GRAZING EDUCATOR, SCNY DAIRY TEAM
Additional Authors:
Dr. Sam Leadley-Attica Vet Clinic
John Conway-Cornell Pro Dairy
Kara Dunn-Freelance Writing,Mannsville, NY
Through the combined use of Management Intensive Grazing and winter confinement, Dairy Farmers can raise heifers that fit their operations through:
Reduced Cost of Feed and Labor
Targeted Growth Goals
Increased Fitness due to Exercise
Decreased Post Calving Metabolic Problems
NYSERDA Agriculture Energy Audit Program
NYSERDA offers energy audits to help eligible farms and on-farm producers identify ways to save energy and money on utility bills. Reports include recommendations for energy efficiency measures.
Eligibility
Eligible farms include but are not limited to dairies, orchards, greenhouses, vegetables, vineyards, grain dryers, and poultry/egg. The farms must also be customers of New York State investor-owned utilities and contribute to the System Benefits Charge (SBC). Please check your farmís current utility bills to see if your farm pays the SBC.
Energy Audit Options
You can request the level of energy audit that best fits your farmís needs. NYSERDA will assign a Flexible Technical Assistance Program Consultant to visit your farm and perform an energy audit at no cost to you.
For more information and the NYSERDA Agriculture Energy Audit Program Application click here
Follow us on Facebook
The team updates our facebook page frequently - follow us to be updated on our events, see some fun videos and get local area updates!
facebook.com/SCNYDairyandFieldCropsTeam