Event Details
Date
November 27, 2018
Time
1:00pm - 3:00pm
Location
CCE Tioga County - Hubbard Auditorium
56 Main Street
Owego, NY 13827
Cost
This event is free.
Host
South Central New York Dairy and Field Crops
Mary Kate Wheeler
(607) 687-4020
email Mary Kate Wheeler
Pre-Registration Deadline: November 27, 2018

EVENT HAS PASSED
Basic Legal Agreements for Farm Business Management
November 27, 2018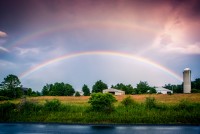 Legal agreements can help a farm businesses plan ahead, minimize risk, and respond to adverse events. Farmers have access to a wide range of legal tools to address specific concerns. These include lease agreements, buy-sell agreements, promissory notes, operating agreements, wills, and even prenuptial agreements.
Farmers interested in learning how legal agreements can strengthen their businesses are invited to attend this free workshop on Basic Legal Agreements for Farm Business Management. We are excited to host speaker Anna Richards from the Cornell University PRO-DAIRY program. Attendees will learn about different legal agreements that are commonly used in farm business management, with an emphasis on Operating Agreements for LLCs.
This is a free event, and pre-registration is appreciated. For questions or to register please contact Mary Kate Wheeler by email at mkw87@cornell.edu or by phone at (607) 687-4020.

Event Flyer (PDF; 170KB)