Event Details
Date
July 30, 2019
Time
10:00am - 1:00pm
Location
Dryden Fire Hall
26 North St
Dryden, NY 13053
Cost
At the Door
$10.00 per person

Host
South Central New York Dairy and Field Crops
Preventing Sexual Harassment on Farms - Tools for Employers
July 30, 2019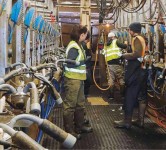 Do you have an agricultural business with employees in New York state? If so, this training is for you!

This workshop will bring together agriculture labor experts and farm management specialists from around the state to discuss New York's new sexual harassment prevention laws. The training will help you understand what the new requirements are and how your business can meet them.
Speakers located across the state will connect via Zoom. Each location will project the Zoom meeting and provide a light lunch. Farmers will be able to ask real time questions and engage with other farmers.

Cost is $10 per person, and will be collected at the door.
This training is for employers and human resource managers, not employees.
PLEASE REGISTER BY JULY 26.
Registration Link:

We are offering the same training in two different locations on July 30 - please pick the date and location that works best for you when you register:
Dryden Fire Hall, Dryden NY
CCE Tioga, Owego NY

Please see the flyer for additional dates and locations around New York state.
Sexual Harassment Training - Flyer (PDF; 650KB)